With over 2 billion monthly users, Meta's WhatsApp is one of the most popular messaging platforms on the planet. We occasionally need to send messages on WhatsApp, but in order for our contacts to appear in the list, we must first sync them.
Despite the fact that WhatsApp does not have this capability, there is a way to message any number without saving it to your device's contact list. Please bear with us. Follow the simple actions outlined here.
We'll go over the best methods for sending a messages without preserving your phone number in your contacts.
You won't have to install or do anything additional with this, and it's the best method to have a brief chat with anyone who has an active WhatsApp account. Let's have a look at it now, without further ado.
Open your internet browser on your device.
Then, in the browser's address bar, type wa.me/phone number (phone number includes mobile number beginning with country/region code).
E.g., wa.me/+91xxxxxxxxx (+91 is a country/region code for India. (Use your code before entering the contact number.) | Find your country code here...
Hit enter, and it will show Continue the chat with the number.
Click on the green button, and from there you can chat, call, or check the details.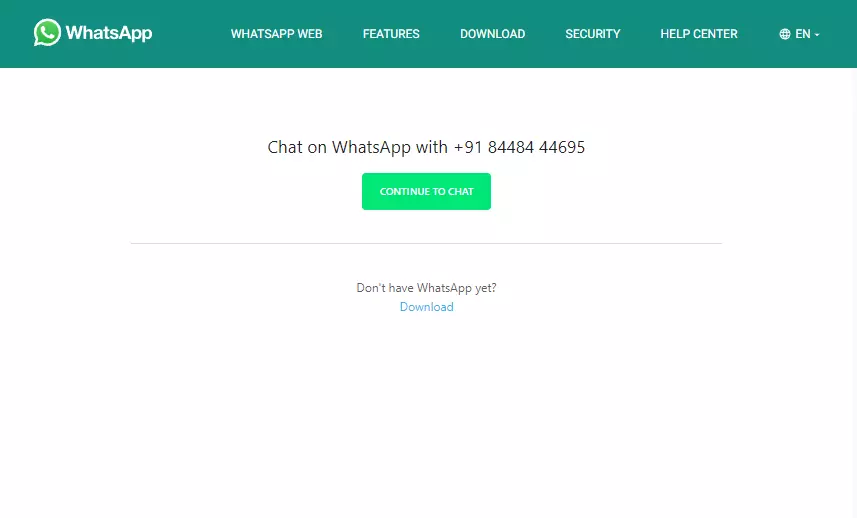 You can perform this on any platform. It doesn't matter if it's on Android, iOS, Windows, or Linux. All you need for this is to have the app installed on your device and active internet connectivity. The recipient should have an active WhatsApp Mobile number.
How is this possible, and is there any thread while using this method?
No, there isn't a problem because wa.me is a short-link that the app API uses to start a WhatsApp conversation. The same API is used to integrate WhatsApp Direct Messages, and you may find that this isn't always the case. To talk or contact someone on WhatsApp, click here. It's one of the references in the book.
There are no threads to be concerned about. They're perfectly safe and have always been wa.me. This is a short WhatsApp link. G.co for Google, youtu.be for YouTube, and fb.com for Facebook are examples of short links.
Hopefully, this instruction was useful to you and you were able to send WhatsApp messages successfully. Thank you for joining us. We'd like to hear your thoughts and suggestions. If you have any questions, please leave them in the comments area below.