One of the most anticipated phones of the previous year was the Nothing Phone 1. Glyph Lighting was the sole cause. The best feature of the gadget, in my opinion, is the stock Android interface. However, given that it is the only smartphone produced by Nothing, the handset is expected to get the Android 13 update fairly late.
The Android 13-based Nothing OS 1.5 second open beta has only been available for one week. And a fresh update is already being released. The latest update, which is a hotfix update for the second open beta of Android 13, is not a full release. Therefore, aside from bug patches, it does not introduce anything new.
Nothing said in 2017 that the phone's first significant update to Android 13 and Nothing OS 1.5 will arrive in 2023 rather than 2022. In late November, the startup, which has Carl Pei's support, released a closed beta.
Later, in the middle of December, the Nothing Phone 1 was given access to the first open beta of Android 13 running Nothing OS 1.5. The second Android 13 beta version with several additional features and improvements was then applied to the smartphone, which was approximately a month later.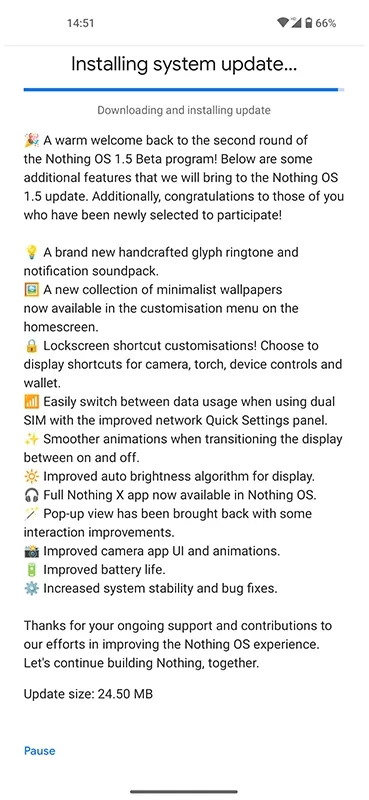 The build number for the most recent hotfix OTA update for the Nothing Phone 1 is TKQ1.220915.002/1673708663. It weighs relatively little because it is a tiny OTA update. And it's spreading throughout Europe. In terms of bug fixes, it resolves several issues, including one where the device displays the wrong RAM configuration.
You will soon receive the minor OTA update if you chose to participate in the Android 13 open beta program and are currently using the second open beta. Keep in mind that as this is a beta update, it could have both small and major errors. The stable update may also be made available soon. You can therefore wait for the stable build if you decided against the beta. Once the update is available, we'll let you know.