Table of Contents
This week, Qualcomm unveiled the Snapdragon 7 Plus Gen 2, which is obviously a significant improvement over the mid-range Snapdragon 7 series on paper.
A single Cortex-X2 core running at 2.91 GHz, three Cortex-A710 cores running at 2.49 GHz, and four Cortex-A510 cores operating at 1.8 GHz make up the new chipset's amazing CPU system, which is reminiscent of the Snapdragon 8 Gen 1 series. The Cortex-X CPU core is now present in a Snapdragon 7 series chipset for the first time. Moreover, Qualcomm claims that the Adreno GPU has been updated and will perform twice as well as the Snapdragon 7 Gen 1 did.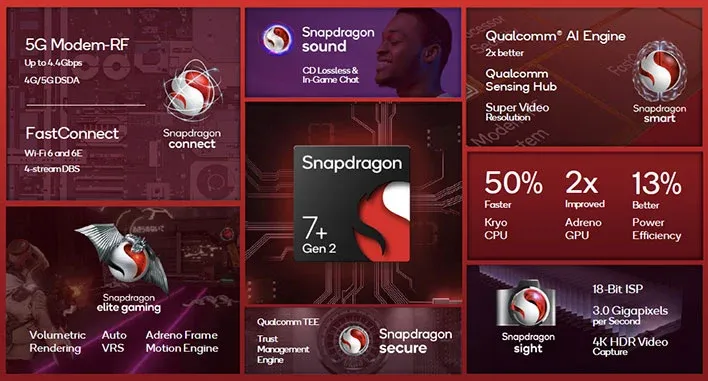 What does this all mean in terms of actual performance, though? We were able to benchmark a Snapdragon 7 Plus Gen 2 reference handset ahead of launch to get a better idea of what to expect.
Design
Obviously, the reference devices from Qualcomm are not smartphones. In essence, these are test versions intended for internal use. It's important to remember that although this specific device is rather slim, reference designs often have a tendency to be fairly thick when compared to commercial handsets. But, due to software, cooling systems, and various designs, we are still anticipating diverse results for commercial devices.
Nonetheless, the Qualcomm reference design features a 4,192mAh battery, a 6.65-inch 144Hz OLED screen in FHD+, 12GB of LPDDR5 Memory, and 256GB of UFS 3.1 storage. Moreover, the phone lacks an active cooling system like a fan.
Snapdragon 7 Plus Gen 2 tests
Since all three chipsets use the same CPU cores, we anticipated CPU-related results to be comparable to those of the Snapdragon 8 Gen 1 family going into this. Due to greater Processor clock speeds, nevertheless, we might anticipate the Snapdragon 8 Plus Gen 1 to have a slight advantage.
The normal Snapdragon 8 Gen 1 is a particularly interesting comparison because it is made using the lesser 4nm Samsung technology, whereas the 7 Gen 2 uses the superior 4nm TSMC process. Our research demonstrates that, at least in part as a result of the move from Samsung to TSMC, the Snapdragon 8 Plus Gen 1 enjoys a significant performance and efficiency increase. Let's examine the 7 Plus Gen 2 to determine if the same is the case.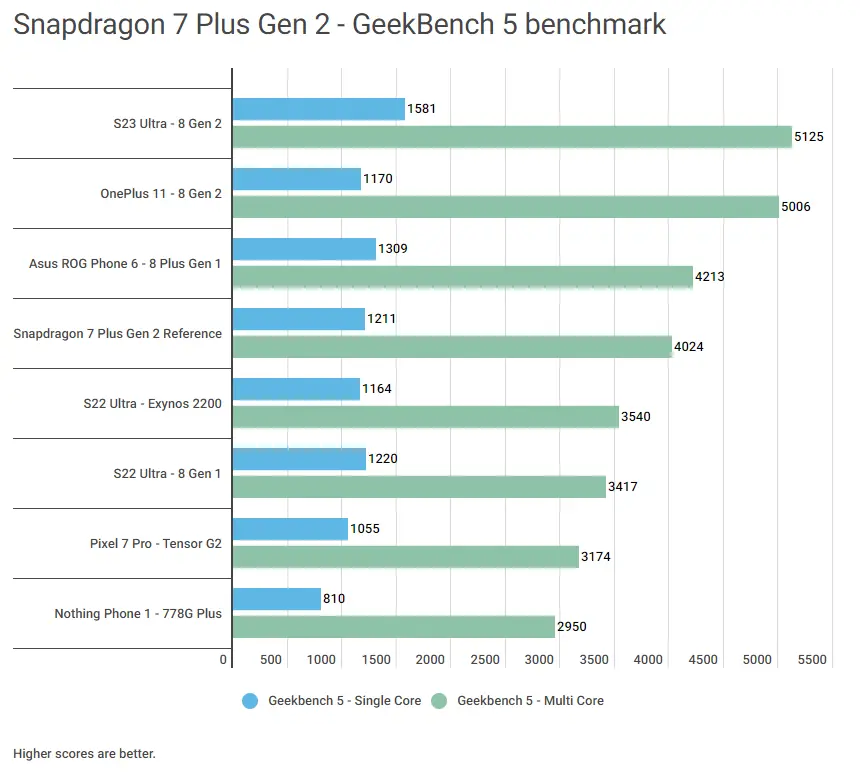 Furthermore, in single-core tests, the Snapdragon 7 Plus Gen 2 reference phone defeats the Exynos 2200-equipped and Snapdragon 8 Gen 1 S22 Ultra and even edges out the OnePlus 11 powered by the Snapdragon 8 Gen 2. To maximize efficiency, OnePlus is extremely careful with single-core performance in the latter circumstance. Yet the S23 Ultra, which has less restrictions, outperforms rivals like the recently released Snapdragon 7.
The reference design manages to outperform every Snapdragon 8 Gen 1 device on the list when looking at multi-core CPU results. Also, it has a score that is comparable to smartphones with Snapdragon 8 Plus Gen 1. However Qualcomm's most recent flagship 8 Gen 2 chip continues to hold a significant lead.
Overall, it appears that, in terms of CPU performance, the Snapdragon 7 Plus Gen 2 is competitive with the Snapdragon 8 Gen 1 across the board. The Snapdragon 8 Plus Gen 1 phones, meanwhile, are also not far behind. The somewhat quicker CPU clock rates and possibly different cache capacities could account for this.
GPU testing
The question of graphical performance is a murkier one on paper, owing to the closed-box nature of the Adreno GPU architecture. However, Qualcomm has noted that the Snapdragon 7 Plus Gen 2 enjoys a two-fold performance boost over the Snapdragon 7 Gen 1. How does this compare to flagship silicon, though?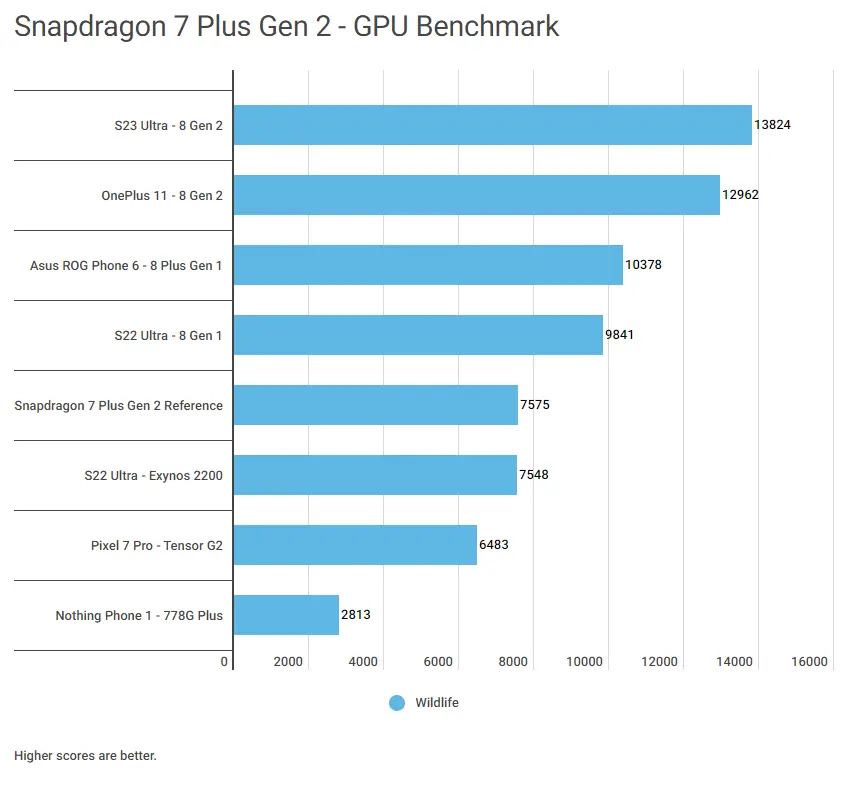 Comparing mid-range chipsets to their flagship counterparts, mid-range chipsets often perform worse in the GPU domain, and the traditional 3DMark Wild Life test confirms this is still the case. The 7 Plus Gen 2 reference design and the Snapdragon 8 Gen 1 series as a whole have significantly different scores.
Thankfully, the Snapdragon 7 Plus Gen 2 easily surpasses the Arm Mali GPU of the Pixel 7 Pro while matching the high-end AMD GPU of the Exynos 2200. Moreover, the reference design score indicates that the Snapdragon 778G Plus GPU in the Nothing Phone 1 offers 2.7x the GPU performance.
This score highlights that Snapdragon 7 Plus Gen 2 phones can handle today's demanding games at respectable frame rates. Demanding gamers might still want a phone with a Snapdragon 8 Gen 1 series or Snapdragon 8 Gen 2 processor for advanced games down the line, but this is a significant win for the mid-tier chipset nonetheless.
Snapdragon 7 Plus Gen 2 stress testing
One-off GPU testing is one thing, but a lot can be gleaned from stress tests. We subjected the Snapdragon 7 Plus Gen 2 device to a 3DMark Wild Life Stress Test to get a better idea of sustained performance.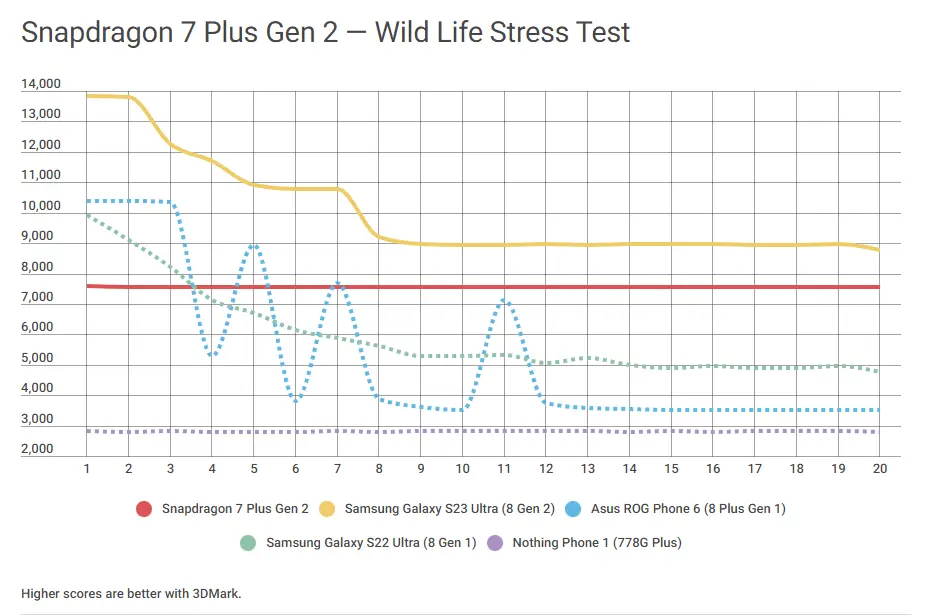 The stress test results make for very interesting reading, as the Snapdragon 7 Plus Gen 2 reference device displays rock-solid stability of 99.76%. In fact, this stability means that the Snapdragon 7 Plus Gen 2 handset can beat the Galaxy S22 Ultra (Snapdragon 8 Gen 1) when put under extended stress. Needless to say, the Nothing Phone 1 and its Snapdragon 778G Plus chipset is far behind as well.
What's particularly intriguing is that over the course of the stress test, the Snapdragon 7 Plus Gen 2 smartphone closed the gap with the Galaxy S23 Ultra and its Snapdragon 8 Gen 2 chipset. This is primarily because the Galaxy handset only maintained 64.6% stability; other 8 Gen 2 handsets performed better.
Although the cynic in us suspects that commercial phones equipped with this chipset may not be as reliable, it still augurs well for prolonged play sessions.
Overall thoughts
Benchmarking reveals that we're looking at a chipset that's at least as powerful as the Snapdragon 8 Gen 1 from a CPU perspective. That's no mean feat, and it's a good sign for those who value speed, be it for everyday performance or those who intend to keep their phones for a few years.
Even when compared to more recent flagship chips, mid-range processors typically show a sizable GPU performance disparity. The bad news is that, in one-off GPU testing, the Snapdragon 7 Plus Gen 2 is not really an exception. Between Qualcomm's mid-range and flagship chips, there is still a significant disparity. The less powerful GPU, however, was able to surpass Google and Samsung's flagship CPUs.
The good news is that the 4nm TSMC architecture and purportedly lower GPU clock speed suggest that we could be looking at rock-solid sustained performance in this case. In a stress test, the chipset can even defeat some Snapdragon 8 Gen 1 series smartphones.
Again, this is just a reference design, but those on the hunt for sustained gaming performance on a budget should keep an eye on phones with the Snapdragon 7 Plus Gen 2. Fortunately, we won't have to wait too long, as Qualcomm confirmed that the first phones are coming this month. The company also name-dropped Redmi and realme as brands working on devices with this chipset.