Every year it appears as though Asus has regained its position as the ruler of gaming smartphones, and this year is no different. The flagship ROG Phone 6 Pro for gamers offers the best mobile gaming experience, but it also costs €1,299 (about $1,300 with taxes in the States). Is this astronomical price justified? In this comprehensive examination of the Asus ROG Phone 6 Pro, I offer you my assessment.
On July 5, 2022, the Asus ROG Phone 6 Pro was introduced in France, and pre-orders for the device began on August 1. It is available in a single 18/512 GB version that costs about $1,300 (plus taxes, of course).
We concur that your wallet will suffer as a result. With the same storage, it is less expensive than the Samsung Galaxy S22 Ultra ($1,400) and the iPhone 13 Pro Max ($1,690).
I don't think it's wise to get a smartphone that pricey and specialized. On the other hand, the ROG Phone 6 Pro unquestionably provides the industry's greatest gaming experience in 2022. And when you take into account that many of its features and advantages are present on the entry-level ROG Phone 6, which begins at
Design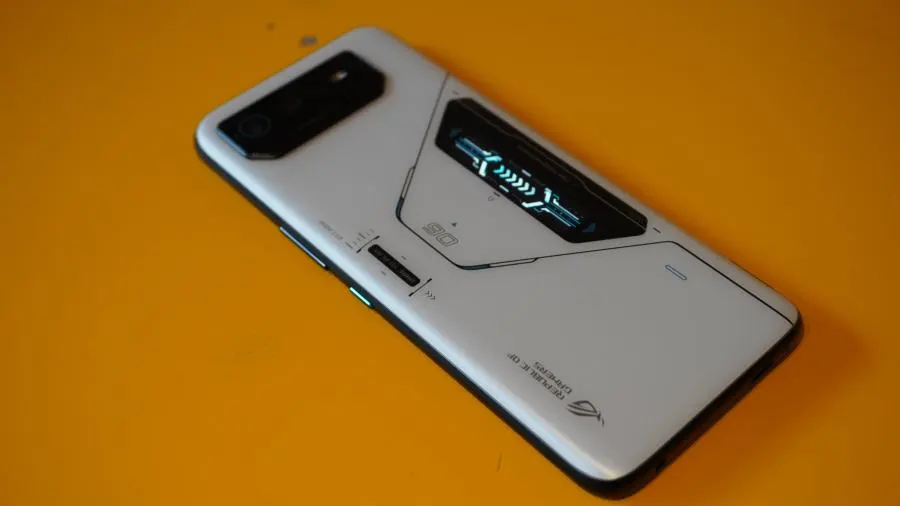 The Asus ROG Phone 6 Pro has a futuristic design evoking the fuselage of a spaceship. It features backlit LEDs as well as a small PMOLED add-on display on the back.
Pro:
Great Storm White color scheme with matte finish.
The small screen ROG Vision is a nice gimmick.
3.5 mm jack and finally an IPX4 rating.
The haptic triggers are always so responsive.
Cons:
Massive form factor and bulky weight.
No microSD port.
Storm White is the only shade of white available for the Asus ROG Phone 6 Pro. Black and light blue metallic screen prints contrast with the matte glass surface, which is very pleasant to the touch. The words "Dare to play" are written on a small backlit LED that is located on the rear. The tiny ROG Vision PMOLED display, which is located directly beneath, shows 60 contextual animations (time, notifications, etc). It's gimmicky, but cool nonetheless, and that's all that counts.
You can of course disable all of this to preserve your battery. The camera module is slightly off-center on the left but remains centered enough while not sticking out too much to prevent the smartphone from feeling wobbly when laid flat. The screen of the ROG Phone 6 Pro is quite flat with 2.5D edges and the grip is frankly good despite its massive dimensions of 173 x 77 x 10.3 mm and its weight of 239 g.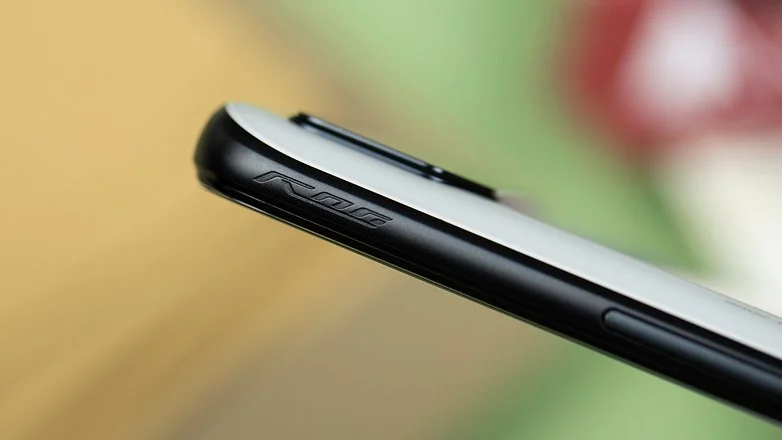 The ROG Phone 6 Pro boasts an IPX4 grade for water and dust protection for the first time. A 3.5 mm jack is also included, which is always a delight. To increase the storage, however, there is no microSD connector. The Corning Gorilla Glass Victus on the front and Gorilla Glass 3 on the rear of the ROG Phone 6 Pro provide protection.
Asus is also one of the few manufacturers that understands that a USB-C cable is the enemy of mobile gamers because it hinders the grip when holding the smartphone in landscape mode. That's why the manufacturer offers two USB-C ports, one on the bottom cross slice (USB 2.0) and one on the left side slice, at the bottom in landscape mode (USB 3.1).
Finally, we find the classic haptic triggers (called Air Triggers) that are still as responsive and offer more possibilities for your touch controls.
Screen
he Asus ROG Phone 6 Pro packs a 6.78-inch Amoled display with a Full HD+ resolution of 2400 x 1080p with a variable refresh rate of up to 165 Hz, a touch sampling rate of 720 Hz and a maximum brightness of 1200 nits.
Pro:
The refresh rate goes up to 165 Hz.
Colorimetry well calibrated by default.
Response time of 1 ms and touch latency of 23 ms.
Cons:
The refresh rate not adaptive enough.
The 720 Hz touch sampling rate is a bit weak compared to some competitors.
The ROG Phone 6 Pro's Amoled screen is ideal for gaming and multimedia use. To the unaided eye, the standard colorimetry is extremely accurate. The display has a 1ms response time (the time it takes for a pixel to change color) and a very low touch latency of 23ms. It is also HDR 10+ certified. This delay, when coupled with the 720Hz touch sampling rate, enables extremely responsive touch controls.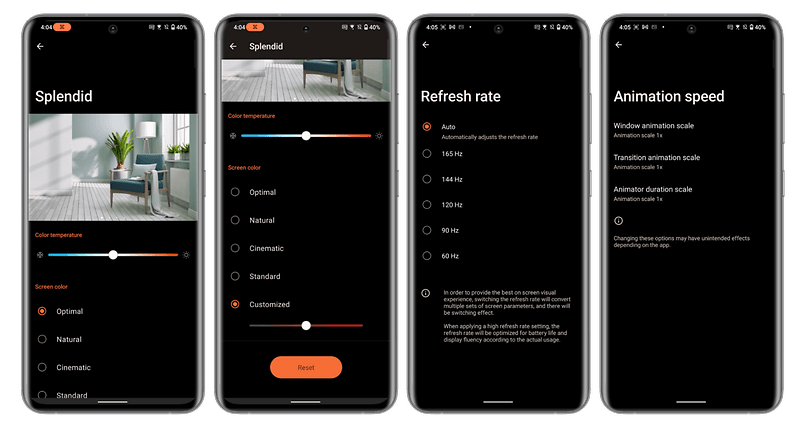 The refresh rate is adaptive, but Asus has not integrated the LTPO 2.0 technology. So it doesn't vary much according to the different usage scenarios you can subject it to. By default, I was stuck at 120 Hz in the interface, even when I wasn't touching the screen. On YouTube, I never went above 60 Hz, no matter what the framerate of the video in question was. And in games, I had to activate the X mode to go from 120 to 144 Hz.
By the way, oddly enough, I could only force the settings to 165 Hz by turning off auto refresh rate. Stranger still, when I turned on the X mode, which is supposed to improve performance, I automatically dropped back to 144 Hz.
In fact, Asus seems to voluntarily block the refresh rate at 144 Hz with the X mode. Maybe the manufacturer thinks that 165 Hz is not very useful since no game runs at 165 FPS and it is better to keep performance to allocate to other tasks. But this is quite counterintuitive.
UI – based on Android 12 and X mode
The Asus ROG Phone 6 Pro runs on the ROG UI overlay, a gaming version of ZenUI, Asus' Android 12-based interface, and the manufacturer promises a fairly limited update policy.
Pro:
ZenUI and ROG UI are lightweight Android interfaces.
Android 12 features are well implemented.
The Armoury Crate menu is as complete as ever.
The ability to switch between ROG UI (gaming design) and ZenUI (more sober design) very easily.
Cons:
The too limited update policy.
Some bloatware (Facebook, Instagram, Messenger, Netflix).
The ROG UI is a customized and gaming-oriented version of ZenUI, Asus' overlay based on Android 12. This interface is basically very light and close to stock Android. Asus has implemented the dynamic themes of Android 12 as well as the Privacy Dashboard.
And, apart from a few typically gaming stylistic effects on the icons and wallpapers, ROG UI does not push the envelope too far and remains quite sober.
Asus also offers a very basic update policy, guaranteeing only two major Android versions and at least two years of security updates.
The highlight of ROG UI is still the Armoury Crate menu, which allows you to manage the different performance modes: X mode, balanced mode and ultra durable mode. The X mode is the one that allows you to boost all the performance to concentrate the computing power of the CPU and GPU, the allocation of RAM, and your network to the game.
The Game Genie pop-up pane lets you control the refresh rate, enable haptics, control the strength of the external fan, and display specific information like the phone's temperature or framerate in real time. It also lets you rapidly access many in-game settings.
Nothing very groundbreaking, but this menu is still pretty comprehensive. And the ability to separately create presets for each of your games is really nice. Additionally, you may turn on several filters and features to enhance graphics and, in particular, alter the thermal throttling threshold to push the smartphone as far as you want.
Asus really wants to give the user a level of control and performance customization that comes close, admittedly, to what you can do on a PC. And I think that's great.
Performance
The Qualcomm Snapdragon 8+ Gen 1 SoC and Adreno 730 GPU, along with 512GB of UFS 3.1 storage and 18GB of LPDDR5 RAM, power the Asus ROG Phone 6 Pro. Additionally, Asus updated its GameCool cooling system.
Pro:
X mode really works and really boosts performance.
Zero overheating in real use.
The hyperefficient external fan.
Cons:
Overheating on a 20-minute benchmark with X mode enabled.
Since the ROG Phone 6 Pro is among the first smartphones to be released in Europe with the premium Snapdragon 8+ Gen 1 SoC, some benchmarks will naturally take some time to adjust. Because of this, 3D Mark's results on the Wild Life benchmark, which simulates one minute of intensive use, weren't very informative. The ROG Phone 6 Pro was merely flagged as being overly powerful by 3D Mark at the end of the test, despite the fact that the smartphone did not at all overheat.
However, what is intriguing are the outcomes with the well-known X mode, which improves performance. On the 3D Mark Wild Life Stress Test benchmark, this was accurate (simulating intense gaming use for 20 minutes). A considerable improvement in raw performance is visible. However, the smartphone was actually on fire.
However, the smartphone maintained its steadiness, hovering about 70%. To put it another way, the X mode only lowers the point at which the smartphone will begin thermal throttling. There is little to no throttling present if the smartphone heats up yet the framerate stays constant.
In real-world use, you will be able to run your games without any graphic concession. Even Apex Legends Mobile, a game that is not 100% optimized, runs full speed at 60 FPS with graphics and framerate at maximum. I didn't experience any slowdowns and above all, no overheating in real conditions, even when I left the X mode on for several hours.
I've put a short excerpt of gameplay for you to see. This demonstration of my talent was recorded in 1080p at 120 FPS (the screen recorder settings do not allow more).
Camera
The Asus ROG Phone 6 Pro features a triple camera module on the back, with the well-known Sony IMX766 sensor for the main 50 MP lens, a 13 MP ultra-wide angle lens and a 5 MP macro lens. As for the selfie camera, it offers a 12 MP resolution.
Pro:
The Sony IMX766 which has proven itself both day and night.
The light photo processing and the natural colorimetry.
Cons:
Exactly the same ultrawide angle and macro lenses as the ROG Phone 5.
No dedicated telephoto lens, digital zoom too limited.
Average selfies.
I'm really going to skim over the photo part because Asus has absolutely not messed around this year. It's exactly the same photo module as on last year's ROG Phone 5.
It has proven itself and offers a very good level of detail overall, with shots rich in sharpness—a good dynamic range in short—I feel like I wrote the same thing in 5 other different tests.
The ultrawide angle images are a little underwhelming because they lack detail and are quite bland. It should come as no surprise that the digital zoom is constrained after the magnification multiplier reaches x2. The macro sensor, too? It is a macro sensor, I suppose. I don't really care if I have 2 or 5 MP.
Overall, I think Asus' software processing is pretty minimal, which results in a colorimetry that feels quite natural. However, occasionally, when there isn't enough light, the images can be a little too plain for my tastes. Simply said, I have zero enthusiasm for this photo module. And I recognize that a gamer may not necessarily be searching for an advanced photo smartphone.
But the photo remains one, or maybe THE, essential purchase criteria for many users. It's a shame to see Asus neglect this part when you know that with the computing power of the ROG Phone 6 Pro, there would be plenty to do.
In video, the ROG Phone 6 Pro can record up to 8K at 24 FPS with its main rear lens. The ultrawide angle is limited to 4K at 30 FPS maximum. As for the selfie camera, it can produce videos in 1080p at 60 FPS. I'll leave you the clips below to get an idea.
Battery
A 6000 mAh battery on the ROG Phone 6 Pro enables 67 watts of wireless charging. There you have it, and it is more than enough.
The dual-cell battery in the ROG Phone 6 Pro charges utilizing the MMT (mid-mid-top) protocol. In essence, the cells don't charge linearly from one end to the other; instead, they charge from the centre to the ends. Most manufacturers have perfected this technique.
Pro:
Big ass 6000 mAh double cell
67W fast charging does the job
Excellent battery life
USB-C charger included in the box
Cons:
On our PC Mark benchmark with the display set to an auto refresh rate and brightness set to 200 nits, the ROG Phone 6 Pro took 19:17 to drop below 20% remaining battery life. That's an excellent score. Personally, I consider that a battery life is very good from 15 to 16 hours minimum. Here, the ROG Phone 6 Pro does very well when you consider that it powers a very greedy SoC, a large 6.78-inch AMOLED screen and all the LEDs as well as its auxiliary screen.
With a wattage of 67 watts, quick charging is more conventional. The bundled USB-C charger has the advantage of working with Qualcomm's Quick Charge 5 standard as well as USB PD 3.0 and PPS. It works with the majority of your gadgets.
The ROG Phone 6 Pro, on the other hand, does not support wireless or reverse wireless charging. I was able to charge this large 6000 mAh battery completely in less than 45 minutes overall. And in any case, the ROG Phone 6 Pro's edge-mounted USB-C connector enables you to play peacefully by connecting it to the power source without being bothered by the
---
So if the ROG Phone 6 Pro seduced you after this test but, like me, you are not ready to drop $1,300 dollars, then go for the ROG Phone 6. And if you can afford it, if you're blowing your nose in 100's of dollars, then PLEASE buy the ROG Phone 6 Pro, the best gaming smartphone of the year.