We've all been sufficiently spoiled for the Pixel 8 and Pixel 8 Pro, so let's move on to the Pixel Watch 2. Apparently, there have been significant Pixel Watch 2 leaks this morning as well, including a promotion that may allow you to receive a free device in two weeks.
This most recent leak, which comes from @Za Raczke once more, is in the form of a promotional film that gives a Google tour of the Pixel Watch 2 and several of its capabilities. We get a clearer idea of the health and fitness capabilities that will be available on Google's upcoming watch, even if Google has already published some of this information.
New in Pixel Watch 2
The new sensor in the Pixel Watch 2—likely the same sensor seen in the newest Fitbit smartwatches—is where the health story of the device begins. This sensor can detect more precise heart rate readings, assess your skin temperature, track stress (EDA), and offer heart rate variability (HRV). Moreover, you will receive pace and zone tracking, automatic workout start and stop reminders, and a number of safety features, including the new Safety Check. The Safety Check timer, which was made available for Pixel phones in June, enables you to check in with loved ones during a certain period of time.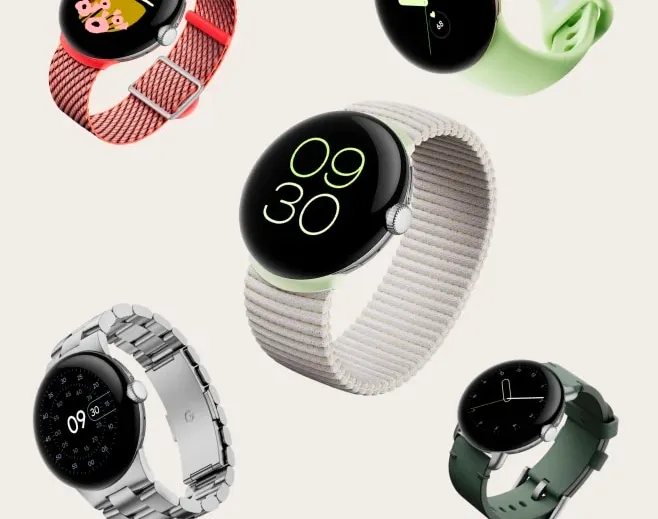 In the realm of health and fitness trackers, none of it is really novel or ground-breaking, although Google did initially debut the Pixel Watch with mediocre health features that didn't really measure up to the competition. This new sensor ought to help it fit in as a watch that is unquestionably expensive.
We may expect a 24-hour battery life with sleep tracking, so there isn't much of an improvement there. That was sort of expected given that leaks had suggested for some time that Google was maintaining the same form factor without significantly increasing battery capacity. We might be able to use the always-on display so that we can receive the entire 24 hours thanks to the new Qualcomm chip.
Last but not least, the film displays the new watch bands, including the Sport Band with a Hole and the Slim Metal Links Band in New Colors
Oh, and the promotion for the free Pixel Watch 2? If you pre-order the Pixel 8 Pro, it appears that Google will give the Pixel Watch 2 away for free. That's a good addition, however it's unclear yet if it will apply to the ordinary Pixel 8 as well or only the Pro. Price-wise, the Pixel Watch 2 should be close to the $350 of the first model.