The subject of launchers can be downright tribal. You become so accustomed to the way your apps are presented that even the tiniest variation in the formula is tremendously disturbing. Even as smartphones have evolved, I've kept with the same launcher approach for years. My current homescreen layout can be traced all the way back to 2011, and it's no longer a tradition; it's simply a bad habit. But, thanks to folding phones, I've had to reconsider everything, and the typical launcher style isn't suitable to an expanding or tall display – but Niagara Launcher is.
Some of you may notice that I'm a little late to the party, but Android Police employees like Prasham Parikh have been enjoying it for almost a year. But, like many of our readers, I simply had a preferred method of doing things and didn't want to change it. Lawnchair Launcher copies the lovely Pixel Launcher while also adding its own useful capabilities to any device, and I've had a layout that I've used since before I started blogging. And, on the majority of phones, I believe it is the best of the traditional launcher styles. But forcing myself to continue using my phone in the same manner hasn't worked out. Sticking to the icons-on-a-grid formula wasn't going to work with my Z Fold3.
The problem is two-fold (tee hee), and it affects a number of different phones. To begin with, Samsung's "cover display" is so tall and narrow that standard icons are rendered useless. It can be a little annoying reaching up to the top of that tall-but-skinny display to hit a little target, just as it is difficult to type on such a thin screen. Sure, you can physically pack a lot of items in there, but reading the descriptions on those icons or actually tapping them can be a pain. However, Niagara easily resolves the problem: In a vertical list, all of your apps display.
You can scroll effortlessly through an alphabetized app drawer, available at any time on the screen's edge, and you have a set of favorites that appear by default (nine works best on the Z Fold3's cover display, but you can do more). If you have an Artem-level list of apps loaded, you can also hide the ones you don't use very frequently from that scrollable list — they'll still show up in search, but they won't slow things down. Niagara even has its own conceptual take on the At-a-glance widget, with the ability to show the time, date, weather, and even forthcoming events, with an expanding agenda view, with a single swipe.
Although the style isn't quite Material, it's similar enough and works well with most modern interfaces, including those found on Samsung phones. Because it's a single column view, you won't have any trouble sifting through the incomprehensibly little icons on a field. It took about a week of genuinely forcing myself to use it (and hating every minute of it) for me to warm up to it, and now I'm stuck with it. This is the finest launcher for a display that is quite tall and thin. And, strangely enough, that translates to a very wide screen.
Because of its column-based technique, two side-by-side columns can easily fit on the inside folding display. Yes, you'll have fewer apps on your home screen, but it will be lot more usable. It also enables "basic" foldable features such as different backgrounds for the cover and inner displays. It even has its own dynamic theming technology, allowing the program to use the wallpaper's colors for its own accents. While the Galaxy Z Fold3 may not have access to that aspect of the Material You experience, you may fill in the gaps and enjoy a portion of it without it.
Your favorites list does not convert well between the folded and unfolded experiences, and your designated favorites persist between the two layouts. Niagara recommends having only enough favorites set so the list doesn't have to scroll, but the dual-column layout has a lot more space than the single column on the cover display. So, while 14 app favorites fits nicely when unfurled, if you have more than nine, you'll have to scroll down the cover display. It's not ideal, but I think it's still preferable to the sea of icons.
The traditional smartphone homescreen experience with a grid of icons dates all the way back to the iPhone — and before that, nearly time immemorial in desktop computing. It's a tried and true, super-intuitive method, but it does break down when it comes to usability a little depending on screen size. Niagara Launcher brings a different approach. I'm not afraid to say: I don't like it on a "normal" phone. But it's perfect on foldables. And though there is a pretty rough acclimation period, It's worth it if you can stick it out.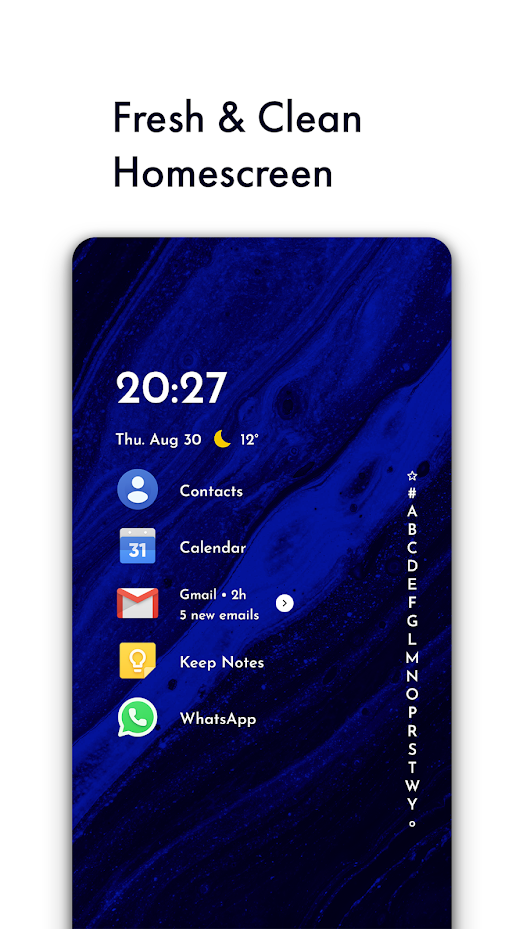 Niagara Launcher ‧ fresh/clean
The traditional home screen we know was made more than a decade ago, where phone screens were smaller than your credit card. Smartphones keep growing, but not your fingers. The minimalist Niagara Launcher makes everything accessible with one hand and lets you focus on what matters.