With the goal of increase user experiences across all of Xiaomi's products, the company is preparing the release of its much awaited HyperOS 1.0, a cutting-edge integrated system based on Google's Android 14. This new operating system is meant to accommodate the growing Internet of Things (IoT) ecosystem, seamlessly connecting various devices for enhanced performance and interconnectivity. HyperOS is built on Linux and leverages Xiaomi's Vela system for enhanced efficiency and resource management. Moreover, Xiaomi is encouraging open-source development by utilizing Xiaomi Vela to create a human-centric ecosystem connecting personal devices, automobiles, and smart home technology.
The first wave of updates to HyperOS 1.0 will cover nine devices, including different models from the Xiaomi 13 and 12 series as well as the Xiaomi Pad 6. GSMChina reported that Xiaomi has already published its update roadmap for Chinese models, but for the global audience, the rollout of updates is scheduled to begin in the first quarter of 2024.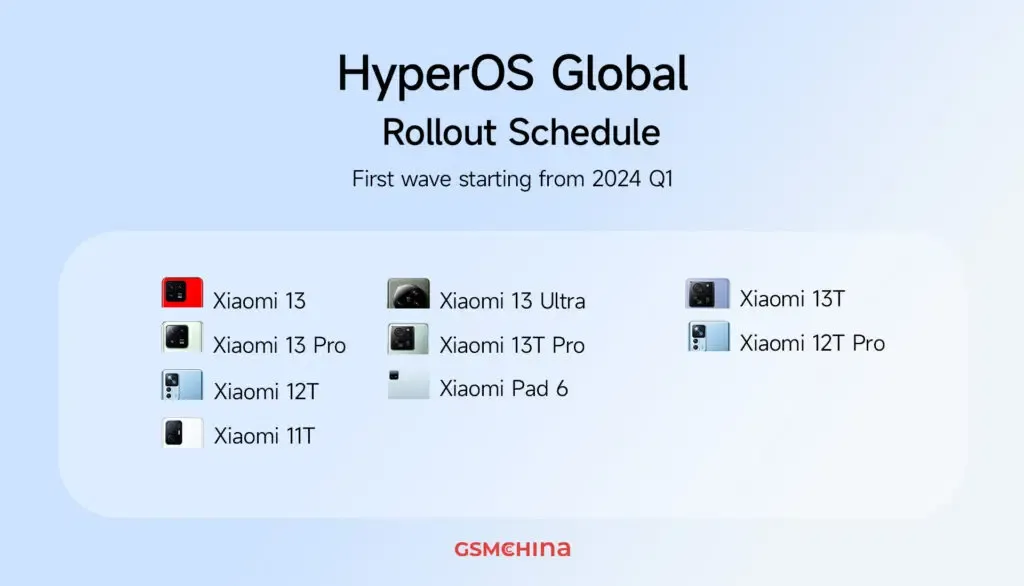 Here's the complete list of nine global devices that are set to receive the HyperOS 1.0
Xiaomi 13 Ultra
Xiaomi 13 Pro
Xiaomi 13
Xiaomi 13T Pro
Xiaomi 13T
Xiaomi 12T Pro
Xiaomi 12T
Xiaomi 11T
Xiaomi Pad 6
The official Xiaomi server has verified these updates, according to GSMChina. Devices that were not included in the initial release should expect updates in later HyperOS 1.0 releases. Xiaomi is currently in the final testing stage, collaborating with its engineering team to make sure HyperOS 1.0 is ready for daily use upon launch. The initial HyperOS domestic release is planned for December 2023 in China, accompanied by a wide array of devices, including smartphones such as the Xiaomi 14 (which comes pre-installed) and Redmi K60 Ultra, the Xiaomi Pad 6 Max 14-inch tablet, the Xiaomi TV S Pro series, the Xiaomi Watch S3, the Xiaomi Sound speaker, and the Xiaomi Smart Camera 3 Pro.
(Source)