The Huawei Band 8 is the newest fitness tracker that Huawei has unveiled in China. The item was unveiled alongside the Huawei Enjoy X mid-range phone, the Nova 11 line of smartphones, and the Matebook D 14 and MateBook D 16 notebooks for 2023. Below are a complete list of the Band 8's features, specifications, and cost.
Huawei Band 8 specifications and features
The company's lightest and smallest large-screen fitness tracker is the Huawei Band 8. The device has an 8.99mm thickness and weighs only 14 grams, making it somewhat lighter than the previous model. Due to its small bezels, it has a 1.47-inch AMOLED screen with a 368 x 194-pixel resolution, a screen-to-body ratio of 65 percent, and a 2.5D high-quality curved glass screen that gives it a beautiful aesthetic. There are more than 10,000 different watch face designs for the Band 8 fitness tracker.
Fast charging is supported by the Huawei Band 8; a full charge takes 45 minutes and 5 minutes of charging gives 2 days' worth of usage. Any worries about the Band 8's battery life are put to rest by the fact that a fully charged battery can last up to 14 days. It is the first Huawei fitness band that have HarmonyOS 3.1 installed.
Huawei's TruSleep 3.0 sleep tracking technology, which is included with the Band 8, has a 10% increase in accuracy over earlier versions. The enhanced algorithm offers users expert and credible sleep advice. In addition, the business has introduced the "Smart Sleep Improvement Plan" in partnership with the China Sleep Research Association to provide users with sleep issues with systematic and individualized sleep interpretation and improvement programs.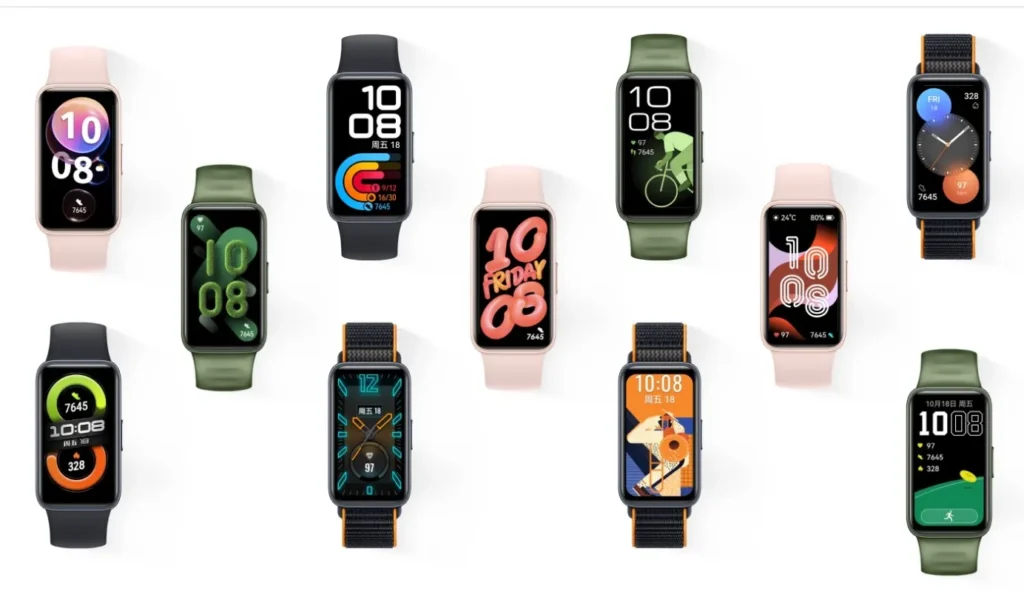 With HUAWEI TruSeen 5.0 heart rate monitoring technology, the Band 8 has also gotten an upgrade to its heart rate algorithm, increasing accuracy by 10%. It has a function called "7-day resting heart rate" that plots the user's resting heart rate over the last seven days. In addition to supporting automatic blood oxygen detection, heart health research, women's health management, and 24/7 stress monitoring, Band 8 has professional health management capabilities.
It is also the first fitness tracker made by Huawei to use a smart negative screen. Users can access smart scene information such as timetables, hotels, airlines, and trains by swiping the screen to the right, which brings up the negative screen. The gadget can quickly morph from a "smart travel secretary" and into an access control card, traffic card, and smart flash card.
Huawei Band 8 price and availability
The standard version of the Huawei Band 8 is priced at only 269 Yuan (~$39), and the NFC version is priced at 309 Yuan (~$45). It will be available for purchase starting April 26 on Huawei Mall, major e-commerce platforms, and authorized experience stores. It comes in four colours: Magic Night Black, Cherry Pink, Emerald Green, and Vibrant Orange.
Source: gizmochina.com