It has always been difficult to find cases for folding phones, but with the Google Pixel Fold, we can skip the hassles of older cases and get right to reliable, secure protection. Manufacturers have jumped right into production of their Pixel Fold cases after years of continuously improving Samsung Z Fold series cases.
For Google's most avant-garde phone yet, we've got the finest of the best—from clear to crushproof, from heavy-duty to hotly designed.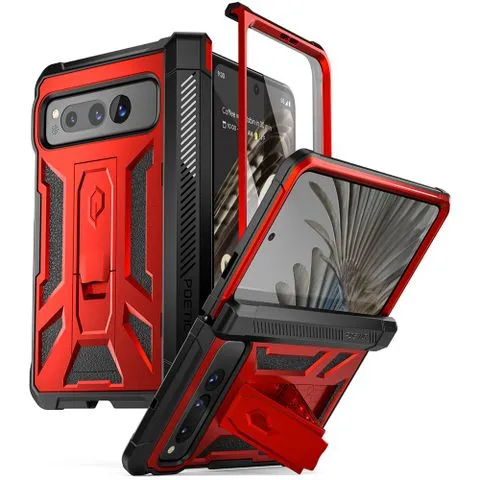 Poetic Spartan for Pixel FoldBest overallI'm not gonna mince words: this is a chunky case. This absolute unit features a heavy-duty hinge protector, a kickstand built into the back (rather than the hinge), and a claim of 20-foot impact resistance. This kickstand should work whether your Fold is closed or open. Though when it's open, you'll want to rotate the Fold from landscape to vertical.$60 at Amazon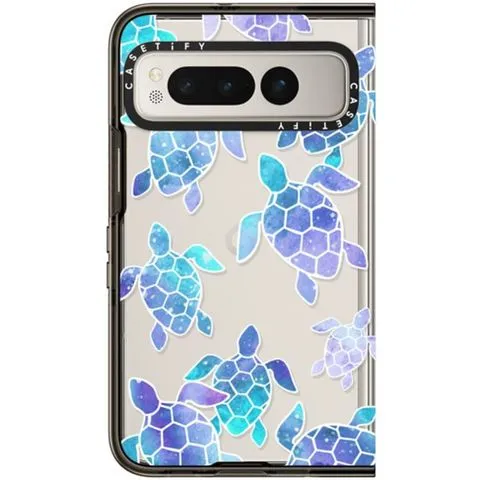 Casetify Impact Case for Pixel FoldPremium pickIs this Pixel Fold Case expensive for only having four-foot drop protection and no hinge cover? Yeah. Is it the most stylish Pixel Fold case you can buy right now? Yup. From hundreds of designs to upcoming Co-Lab collections, from custom cases to iconic artwork, Casetify's gallery ensures everyone can find something they like. If you don't like the black bumper, Casetify also has a Clear option.$72 at Casetify
Caseology Parallax for Pixel FoldBest valueMost manufacturers charge 30-100% more for a foldable phone's case — they're harder to design and use more materials — but Caseology keeps it classy and affordable with the Parallax. It might not have a kickstand or color choices, but it gives this Pixel Fold case exactly what it needs: grip and some basic impact resistance. The sculpting around the buttons also makes it easier to open the Pixel Fold.$25 at Amazon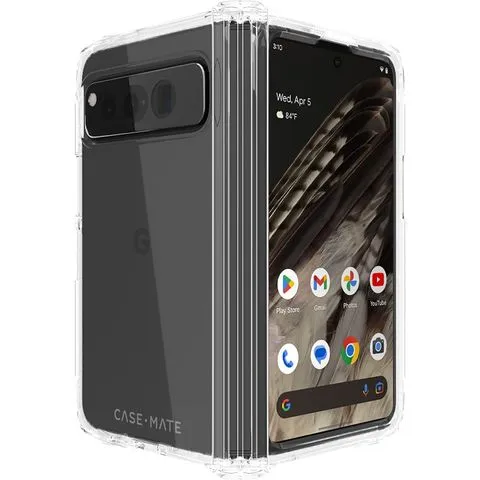 Case-Mate Tough Plus for Pixel FoldFeels like one solid caseMost folding cases are two completely separate pieces that you have to hope and pray line up perfectly on your Pixel Fold. Case-Mate's Tough Plus is one of the few Pixel Fold cases that feels like one modulated case rather than two distinctly separate halves. Case-Mate also claims it can withstand up to 16-foot drops, but the polish of this case alone is worth the price of admission.$50 at Amazon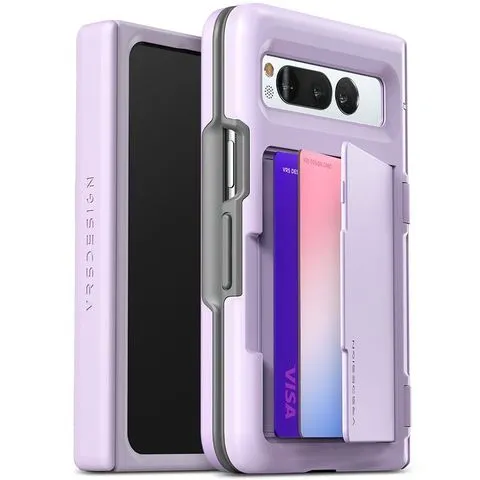 VRS Design Terra Guard Modern Go for Pixel FoldThere's no sugarcoating the thickness of this cover, being a card slot case on top of a heavy-duty Pixel Fold case. If you're looking to ditch the billfold and just carry everything all in one, the Terra Guard is one of the few wallet options for this phone. We wish there were a teeny bit more space inside the slot for cash on top of cards, but it's workable.$50 at Amazon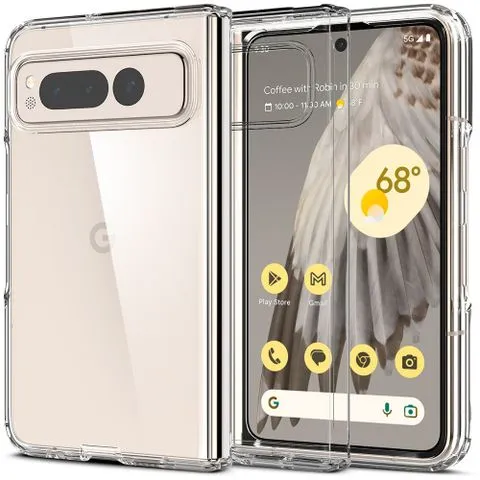 Spigen Ultra Hybrid for Pixel FoldAs far as clear Pixel Fold cases go, it's hard to beat the Spigen Ultra Hybrid. Though it lacks a hinged cover, this slim case will put that wonderful, creamy Porcelain on full display while staying slim and manageable while holding. Because there are no moving parts to this case, you can actually lay the Fold flat on a tablet without it turning into a seesaw for fairies.$45 at Amazon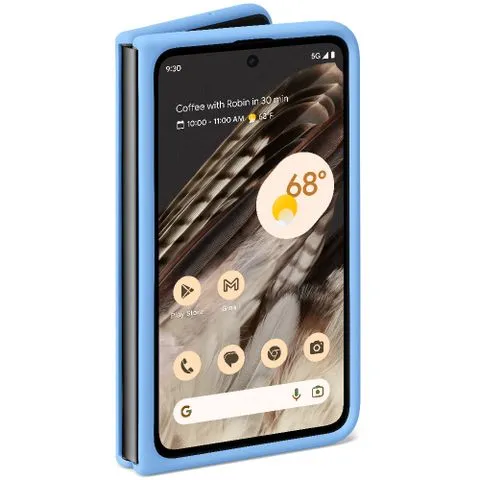 Google Official Case for Pixel FoldThe track record of Google's first-party cases has been a bit circumspect over the last couple of years, but its official Pixel Fold case breaks from the flimsy translucent cases with simple silicone slipperiness. Although we'll have to test this one thoroughly, Google touts its stain resistance and texture — two areas previously struggled with. One thing's for sure: Google nailed the colors.$60 at Google Store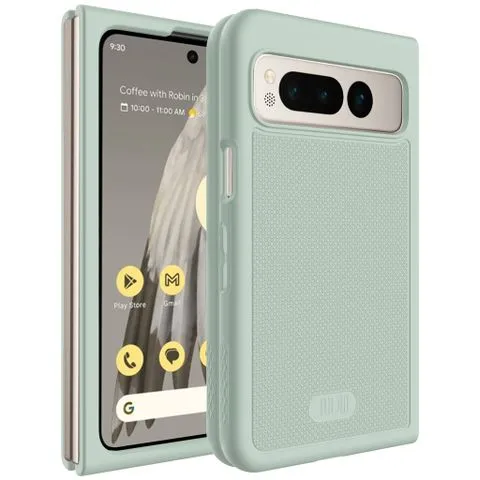 Tudia DualShield for Pixel FoldTudia's initial images for the DualShield had it completely covering the power button — and thus the fingerprint sensor — but it seems Tudia has remedied this mistake. The cutout for the power button is slim but should be enough to get a decent read while pulling the phone out of your pocket. It also comes in four striking colorways.$43 at Amazon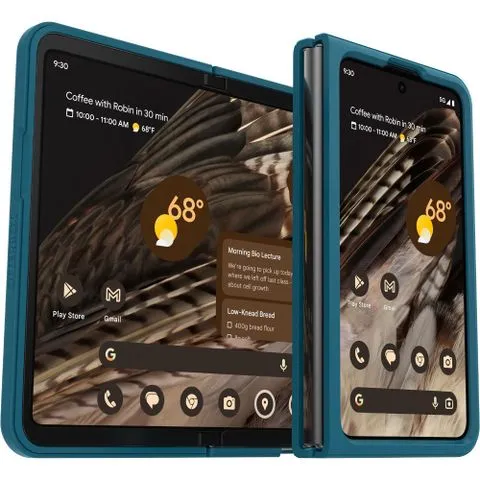 Otterbox Thin Flex for Pixel Fold$48$60Save $12At this time, OtterBox only offers the Thin Flex series for the Pixel Fold, a welcome compromise between a bold bumper case and a classic clear case. The edges on a clear case often end up looking ugly, especially if adhesives are involved, so covering these harsh realities is a good call. I do wish there were more color options, though.See at Amazon$48 at Otterbox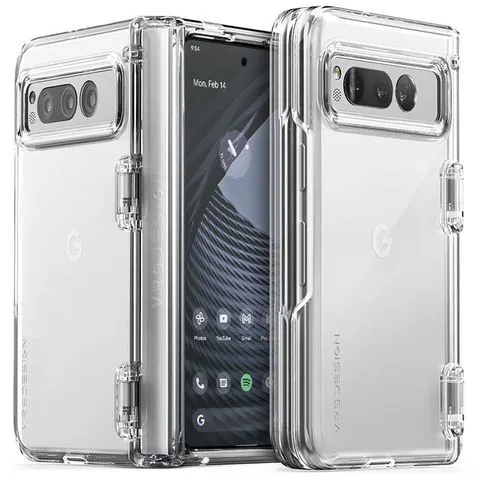 VRS Design Simpli Fit for Pixel FoldWhile available in solid green and black, the clear VRS Simpli Fit shows the Pixel Fold's matte glass exterior and thus is vastly superior. Clear cases with hinge covers are usually a bit messy, but VRS Design keeps things sturdy and clean. The cutout around the power button could use a little extra room for scanning fingerprints, but it should be fine most of the time.$40 at Amazon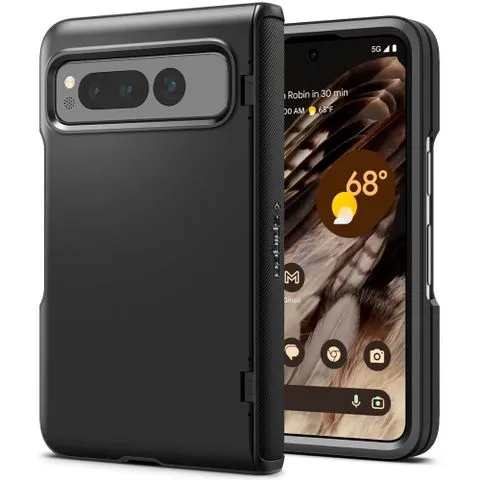 Spigen Slim Armor Pro for Pixel FoldThe Slim Armor Pro's normal construction makes it almost feels stale on normal slab phones, but its folding hinge cover adds just enough flair to keep it interesting. The hinge cover here is a bit slimmer than those found on VRS Design and Poetic's cases, making it a less awkward handhold while using the Fold's inner screen. For this price, the lack of kickstand stings.$85 at Amazon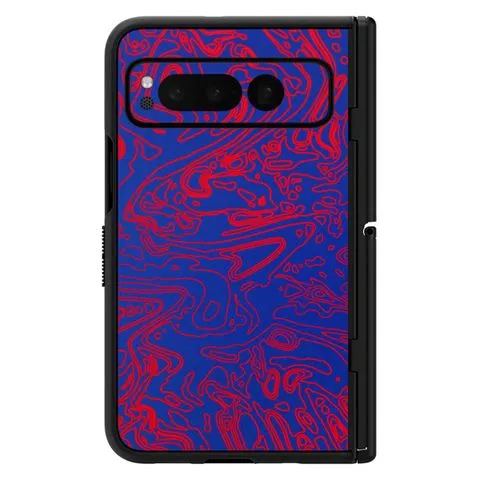 dbrand Grip for Pixel Fold$60$80Save $20Dbrand offers some of the best cases on the market, and they are bringing that expertise to the Galaxy Fold. At just 2mm thick and with military-grade drop protection, the case makes you feel confident that your phone will be well protected without any extra bulk. To prevent you from dropping it, this case consists of thousands of tiny ridges for maximum grip. It also comes with a built-in kickstand for enhanced viewing pleasure.$60 at dbrand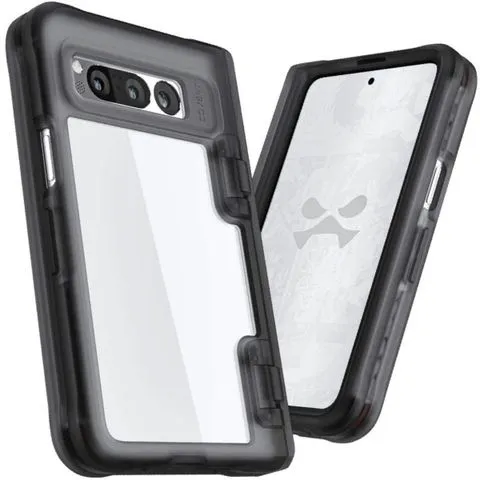 Ghostek Covert for Pixel FoldThe Ghostek Covert case for the Pixel Fold offers a lot of protection in some fantastic colorways. While there are nine colors to choose from, six of those colors are available in limited quantities. So if you want to be unique, make sure you don't hesitate. This case offers eight feet of drop protection, is scratch resistant, and has raised edges to keep the display and camera lenses free of scratches. $40 at Ghostek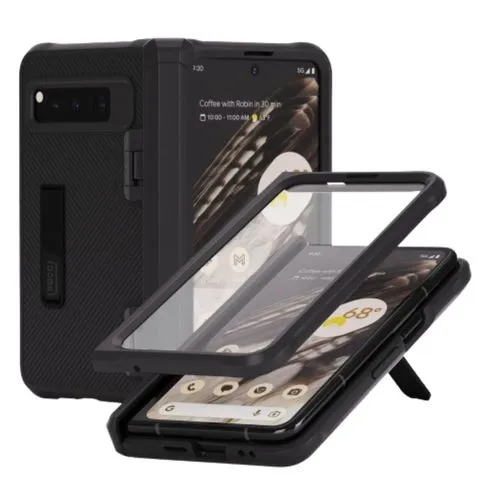 Whitestone Dome Escudo for Pixel FoldThe Whitestone Dome Escudo case offers complete device protection for the Pixel Fold. In addition to protecting the Fold's body, the Escudo case protects the hinge and comes with a built-in screen protector. It is wireless charging compatible, allowing you to use your favorite charging mat or the power share feature. With precise port cutouts and an integrated kickstand, the Escudo case is a fantastic investment for the Pixel Fold.$26 at Amazon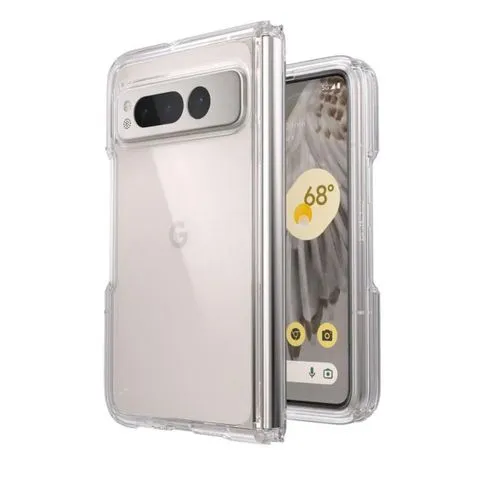 Speck Presidio Perfect-Clear for Pixel FoldThe Presidio Perfect-Clear case from Speck has its surface covered in Microban, keeping odor and stain-causing bacteria at bay. This layer maintains top-notch clarity and won't yellow over time. In addition to showing off the Pixel Fold, it offers 13 feet of drop protection in a thin package. And with raised bezels, the screen and camera are protected from being dragged across a flat space.$60 at Speck
---
The current selection is strong, despite the fact that we're still missing a sizable portion of the anticipated Pixel Fold cases—we're hoping they're just fashionably late and not just absent. Newer companies like Ghostek and Casetify bring forth more flair and refinement, while more traditional names like OtterBox, Dbrand, and Spigen serve up the familiar and expected series. The Caseology Parallax combines all the best elements. We are familiar with and have confidence in this series since it provides a protective case that is neither too thick nor too thin, with equal parts grip and style.
It's good that there aren't many colorful Pixel Fold options you'd want to show off with a clear case. Slim scratch protection is provided by clear cases like the Ultra Hybrid and the Presidio Perfect-Clear. Additionally, more colorful cases, such as the graphic Casetify Impact Series, continue to create distinctive and captivating combinations for your Pixel Fold.
You will have to cope with actual cuts surrounding the button because the Pixel Fold's fingerprint sensor is positioned on the power button. Hence, cases that eliminate the volume and power buttons, like the Spigen Ultra Hybrid, tend to yield better reads. Although cases like the Ultra Hybrid expose more of the frame and the buttons, they also provide a better grip place for opening the Fold with one hand. Some covers, like Tudia's DualShield, simply expose the power button, making it simpler to feel where your finger has to go. But, some people may find it more difficult to acquire accurate fingerprint reads due to the smaller cutout.
If all else fails, use Smart Lock, also known as Extend Unlock, to keep your digital lifeline unlocked when you're out and about or sporting your lovely Android smartwatch, as I do. Then purchase a screen protector for your Pixel Fold to shield that dazzling exterior screen from nicks and breaks.