There are many reasons you may want to use an open source alternative to an application like Gmail. Security, security and promoting open source growth are top of the list, but the simple fact is that at the end of the day, an app like Gmail needs to produce revenue for Google to make the service worth providing. It must also serve a vastly diverse user base with tons of email needs and expectations you may not have, where a simpler, more stripped-down email experience would do the same. Below are a range of fully free and open source Gmail alternatives for Android.
All of these apps are simply clients for external email services, like Gmail and Outlook, so you won't improve your privacy by simply using one of these apps instead of Gmail for Android. However, these apps do offer features like email tracking blockers, and they may work on devices without Google Play Services.
FairMail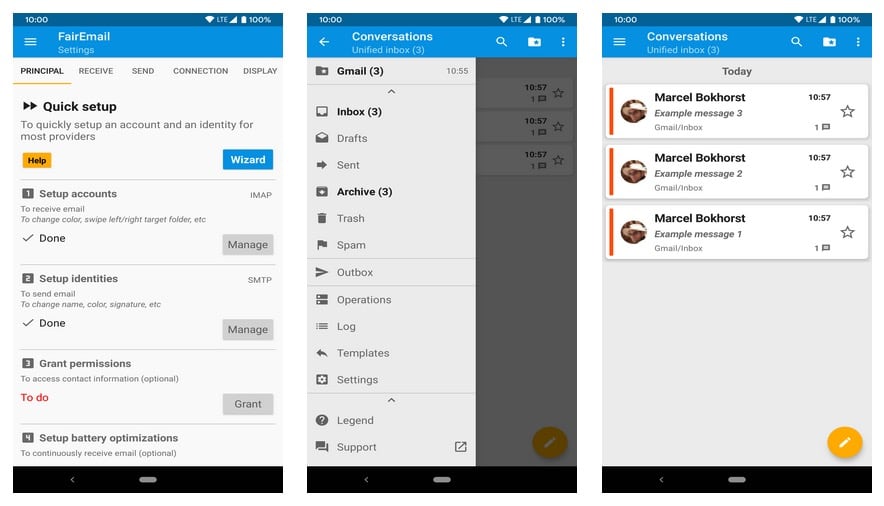 FairMail is a new email app that arrived earlier this year on the Play Store. It's a pretty powerful email program, built by Marcel Bokhorst, the NetGuard firewall developer. It allows limitless synced accounts, a single inbox, the threading of messages and more. This also functions similarly to Gmail, archiving a document by a swipe to the left. Here are some pleasant privacy features to remember in FairEmail 's work. By default, messages are viewed in a 'protected view,' which excludes files, external images and other potentially useful elements to monitor you. For instance, services that monitor when you open a specific message do not function with safe view on.
FairEmail also supports OpenPGP signing, and doesn't have any built-in advertisements or analytics.
If you end up liking FairMail, you can unlock an optional version of Pro for a $5.99 in-app purchase. Pro provides advanced notification settings, snoozing, scheduled sending, response templates, biometric support, a unified home screen widget in the inbox, and much more.
The only downside to FairMail is that it adds a persistent notification for syncing, but you can simply mute the 'Service' notification channel in the Android settings to hide it, and it will continue to work (or at least, it worked for me). Also, Exchange servers aren't supported, only IMAP and POP3.
K-9 Mail
K-9 Mail is the classic open-source email app for Android. Although there hasn't been a major update in a while, it's still the top choice for many people, especially since it supports Microsoft Exchange servers (2003/2007 with WebDAV). K-9 Mail also serves as the base for many other email apps.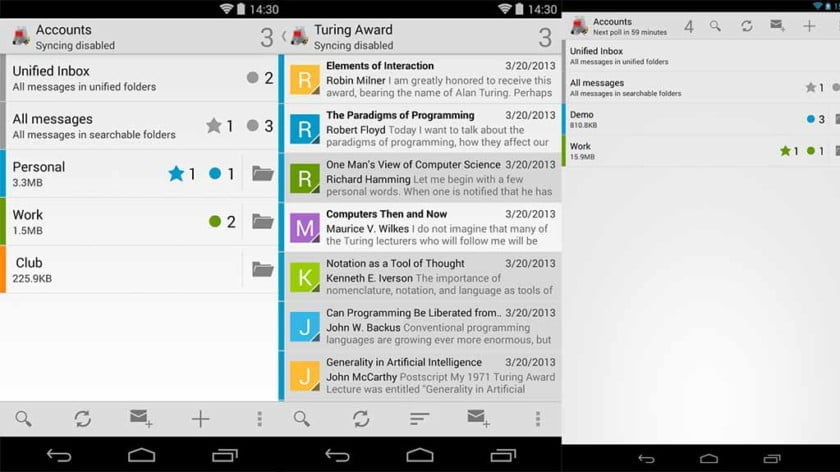 K-9 Mail has all the features you 'd expect from a mail application, such as multi-account support, search function, multi-folder sync, flagging, signatures, OpenPGP encryption, etc. The gui leaves a lot to be desired — in a long time, I haven't seen a Holo version — but it's workable. In fairness, version 5.0 with overhauled UI is currently under development.
Unless you need something that only K-9 Mail offers, I 'd probably go with FairMail instead, because that app has a more modern design. It is nevertheless always nice to have more options.