Late last year, Qualcomm launched a new naming scheme for its chipsets, which it continued with the upper mid-range Snapdragon 7 Gen 1 earlier this year. The SD 4 Gen 1 and SD 6 Gen 1 are now being revealed by the US chip creator, who is going downstream.
The new chipsets, which take the place of the SD 400 and SD 600 naming conventions, also add a few useful features to their respective price ranges. What you need know about them is as follows: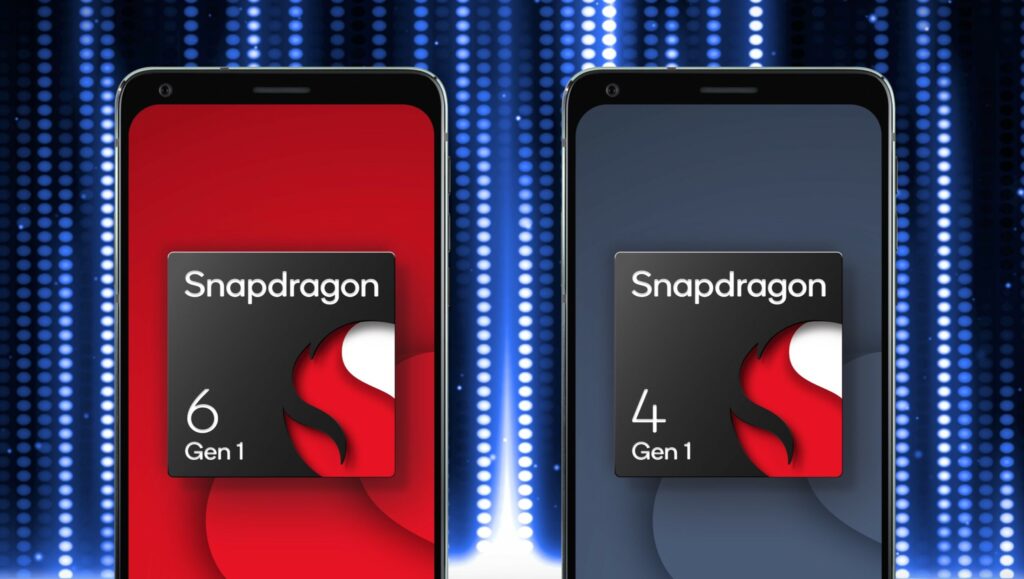 Snapdragon 6 Gen 1
The 4nm Snapdragon 6 Gen 1 is undoubtedly the best chipset out of the bunch, with an octa-core CPU (4x Cortex-A78 and 4x Cortex-A55) with a claimed 40% performance improvement over the Snapdragon 695, which is, admittedly, a weaker chip. A 35%-better performing Adreno GPU is also included with the SoC, along with gaming-specific features like variable rate shading and jank minimization.
Qualcomm's new SoC also brings an improved AI engine with a Hexagon Tensor Accelerator and a claimed 3x increase to AI performance, as well as a Snapdragon X62 5G modem.
Snapdragon 4 Gen 1
Snapdragon 6 Gen 1
CPU
2x Cortex-A78
6x Cortex-A55
4x Cortex-A78
4x Cortex-A55
GPU
Adreno
Adreno
Modem
Snapdragon X51 5G
2.9Gbps down
Snapdragon X62 5G
2.5Gbps down
Camera
108MP snapshot
32MP single
25MP+13MP dual
13MP triple
48MP single
25MP+16MP dual
13MP triple
108MP snapshot
4K HDR
Connectivity
Bluetooth 5.2
Wi-Fi 5
Bluetooth 5.2
Wi-Fi 6E
Manufacturing process
6nm
4nm
The Snapdragon 6 Gen 1 also offers a respectable selection of photographic features, including up to 200 MP for a single camera (likely for a snapshot), 25 MP and 16 MP for a dual camera, and 13 MP for a triple camera. Additionally, 4K HDR video recording is something you can anticipate, which is an upgrade over the Snapdragon 695's complete lack of 4K video recording.
Other noteworthy features include 120Hz at FHD+ display resolutions, Bluetooth 5.2, Wi-Fi 6E, and support for Quick Charge 4+.
You're in for a bit of a wait if you want a phone with this chipset, as Qualcomm says devices with the SD 6 Gen 1 are set to launch in Q1 2023. Motorola has also confirmed that it will offer a phone with the new SoC.
Snapdragon 4 Gen 1
Additionally, Qualcomm unveiled the 6nm SD 4 Gen 1, which replaces the SD 6 Gen 1. With a claimed 15% boost over the SD 480, the new lower mid-range SoC offers an octa-core CPU (2x Cortex-A78 and 6x Cortex-A55). The GPU reportedly experiences a 10% performance increase.
Otherwise, it appears that the SD 4 Gen 1 and the SD 695 have a lot in common. Similar camera features (including support for 108MP snapshots but no 4K video recording), 120Hz support at FHD+ resolutions, Quick Charge 4+ support, Bluetooth 5.2, and Wi-Fi 5 are all present. Additionally, the Snapdragon X51 5G modem can reach downlink rates of 2.5Gbps.
You won't have to wait long to see the first phones with the SD 4 Gen 1, as Qualcomm confirmed that the first devices will land this quarter (Q3 2022). Vivo's Iqoo brand has revealed that the Iqoo Z6 Lite will be one of the first globally available phones with the new chipset.