Tomorrow is Qualcomm's annual Snapdragon Summit, during which the company is anticipated to reveal its upcoming Snapdragon 8 Gen 3 chip. Nevertheless, it appears that a recent leak, which discloses the complete specifications of the chip, may have wrecked tomorrow's surprise. It also appears that the Snapdragon 8 Gen 3 will include a plethora of AI functions.
Leaked marketing materials for the Snapdragon 8 Gen 3 have been obtained by the MSPoweruser team. The processor will reportedly feature a number of AI tools that will enable actions like expanding images, removing objects from films, creating AI backgrounds, and more, according to the leak.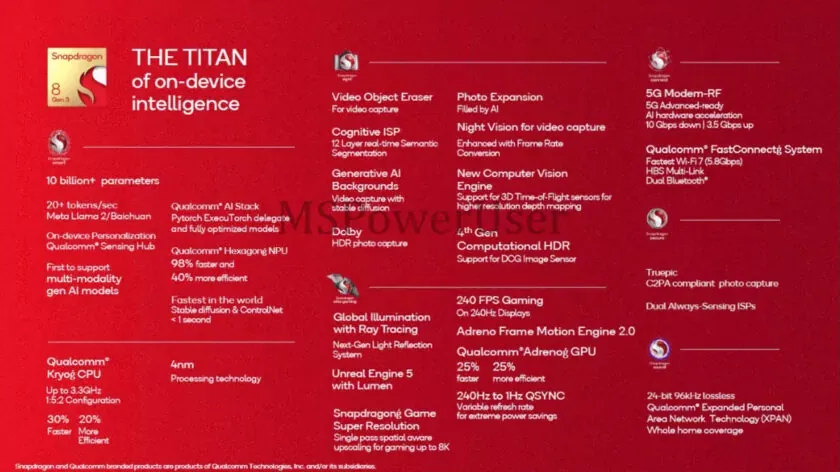 Significantly, the report also discusses being able to use AI models like Meta's Llama 2 and Stable Diffusion. In light of the tech industry's adoption of AI this year, including all of these AI capabilities makes sense.
Qualcomm equipped the CPU with an updated Hexagon neural processor to enable all of this (NPU). According to the marketing brochures, the new NPU is 40% more effective and 98% faster. The comparison is allegedly between the Gen 3 and the Gen 2, however the paper is vague.
But it's not only about AI; there also seem to be some potent gaming-related elements. This features the ability to game at 240 frames per second and upscaling for up to 8K resolution using a next-generation light reflection system that supports global lighting with ray tracing.
One of the first products that the Snapdragon 8 Gen 3 is likely to be found in is Samsung's Galaxy S24, which is scheduled to debut in Q1 2024. Since this is Qualcomm's flagship chip, it should also be found in many of the high-end phones that debut the following year.